Selena Gomez Tweets A Pic Of Her New Purple & Blue Highlights

It's a new year which means new hair for Selena Gomez! She went and got exciting new extensions for her South American tour, HollywoodLife.com found out exclusively! What do YOU think of her new 'do?

Selena Gomez, 19, took it to Twitter to debut her newest hairstyle and we're totally loving it.

Selena tweeted "Change is good… My girls @ninezeroone take care of me always :) LOVE" with a twitpic of her super cute new hair.

"She wanted something a little more spunky fun and different," said Chauntal Lewis, who works the front desk at Nine Zero One salon in West Hollywood, where Selena got her hair done on Jan. 11th. Selena received about 75 strands of the Great Lengths Hair Extensions in purple and blue — something fun and exotic for her upcoming South American tour that kicks off in San Juan, Puerto Rico on Jan. 22!

We love how Selena isn't afraid to try something different and edgy with her hair. We think she looks ah-mazing!

Don't you agree HollywoodLifers? What do YOU think about her new look? Vote and weigh in below.
www.hollywoodlife.com

Selena Gomez Hair color 2012
Selena Gomez Hair 2012 blue and purple
Selena Gomez Hair 2012 Twitter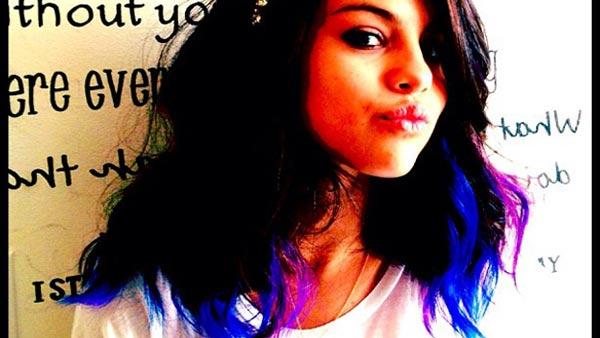 Selena Gomez Hair 2012
Selena Gomez debuts blue and purple hair - what do you think?

Selena Gomez debuted new electric blue and purple hair this week and told fans "change is good" along with a photo of her new style on Twitter.

The bold style was achieved with purple and blue extensions, which the 19-year-old pop star and Disney Channel actress had put in at the Nine Zero One salon in West Hollywood on Wednesday.

The actress also thanked fans for watching her Disney series, "Wizards of Waverly Place," which premiered in 2007 and ended on January 6th, with a one-hour finale.

"You Guys, I honestly can't thank you enough for being a part of the best 4 years of my life," Gomez wrote on Facebook on Thursday. "'Wizards' was SO important to me and I'm SO happy so many of you watched the series come to an end. I loved the whole experience and I'm so grateful for it. I love you guys! I hope to continue to do more things you guys enjoy watching!"

The actress also recently talked to MTV about the end of "Wizards of Waverly Place.".

"The show will live on forever and we're all grateful for that," she told the network. "I spent more time with them than my own family. It was amazing."

She also told MTV that she plans to "take a break from music" to concentrate on her film career.

The actress appeared in the romantic comedy "Monte Carlo" last year and is getting ready to shoot the movie "Spring Breakers" with James Franco, Vanessa Hudgens, Emma Roberts and Heather Morris from the FOX show "Glee." The film will follow four college girls who rob a restaurant to pay for a spring break vacation, are sent to jail and get involved with a drug and arms dealer who bails them out.

What do you think of Selena Gomez's new hair style?